RP113: Native American Showcase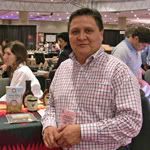 ReMARKable Palate #113: Native American Showcase
We speak with Nathan Notah of the American Indian Food Group, who introduces us to several of the great food products being produced by indigenous peoples in the US. From chocolate to Anasazi beans, wild rice, popcorn and fry bread mixes, we learn about the diversity of products available from Native Americans.
Links:
American Indian Foods
Co-Sponsors:
Hamilton Beach
Partida Tequila
www.godaddy.com
Use these codes for special discounts at checkout:
palate1
for 10% off any order
palate2
for $5 off any order of $30 or more
palate3
to get a .COM domain name for just $6.95 a year
Music: "Go Fish" by Big Money Grip, from the Podsafe Music Network.
music.podshow.com
The ReMARKable Palate Podcast
is a production of
The Culinary Media Network
.
www.culinarymedianetwork.com
food
,
food podcast
,
ReMARKable Palate
,
Culinary Media Network
,
Gilded Fork
,
Chef Mark
,
Native American Food
,
Partida Tequila
,
Hamilton Beach
Labels: native american food, podcast, ReMARKable Palate