Going for the Green!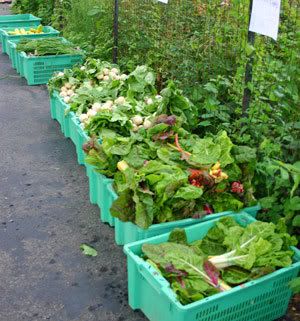 Well, it's another Thursday, and we're starting to get a real abundance of vegetables from the
Hawthorne Valley Farm
CSA. This week, we had more rainbow chard, Japanese turnips, lettuce, and sugar snap peas.
I sat in the park speaking with some of the lovely members of my CSA, letting our dogs play together. What a bunch of great folks who love food and know to treat themselves well with good biodynamically farmed produce! Throughout the season, we'll have more from the great people involved, and what they're making with their shares. If you're reading the blog having seen my recipes in the weekly CSA newsletter, welcome! (and feel free to leave comments)
This week, we started to see the real signs of the summer: Squash! We got both zucchini, and a bi-colored summer squash, perfect for my classic
calabacitas recipe
. We also got purple scallions. I think I'll use these to make a batch of
champagne braised red onions
for an amuse bouche for a client dinner I'm doing tomorrow night: Cucumber cups with caviar and champagne onions. Just dice them finely and get 'em drunk on bubbly!
And of course, in my fruit share, i got a quart of strawberries! I'm going to miss these as the season progresses, and there's nothing like sitting on the grass eating strawberries straight out of the carton and sharing them with my neighbors (and occasionally Stiva).
food
,
food podcast
,
cooking
,
recipe
,
CSA
,
ReMARKable Palate
,
Culinary Podcast Network
,
Gilded Fork
Labels: CSA, farmer's market