ReMARKable Palate Video #11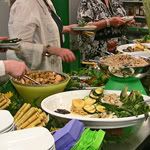 ReMARKable Palate Video #11: 100 Mile Menu
Video coverage of the 100 Mile Menu event at New York's Great Performances. All the food came from farms from within 100 miles of New York City. We see the guests helping to prepare their meal, talk to some of the chefs, and hear from Paula Lukats from Just Food, and Liz Newmark, owner of Great Performances.
Links:
Just Food
The Sylvia Center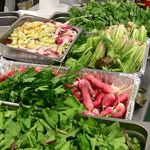 Sponsor:
www.godaddy.com
Use these codes for special discounts at checkout:
palate1
for 10% off any order
palate2
for $5 off any order of $30 or more
palate3
to get a .COM domain name for just $6.95 a year
Music: "Go Fish" by Big Money Grip, from the Podsafe Music Network.
music.podshow.com
The ReMARKable Palate Podcast
is a production of
The Culinary Podcast Network
.
www.culinarypodcastnetwork.com
food
,
food podcast
,
ReMARKable Palate
,
Culinary Podcast Network
,
Gilded Fork
,
Chef Mark
,
PodShow
,
Just Food
,
100 Mile
,
The Sylvia Center
,
CSA
>
Labels: CSA, farm, podcast, ReMARKable Palate, video