ReMARKable Palate #100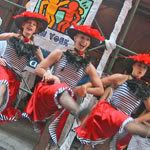 ReMARKable Palate #100: Bastille Day 2007
I take you along as I join the Bastille Day festivities with Ariane Daguin and our friends at D'Artagnan as they host a petanque festival in Bryant Park, pitting many French Restaurateurs against each other in a "Boule-a-thon". Then we head downtown to Lower Manhattan and join Phillipe Lajaunie at Les Halles as he hosts his annual waiter race, complete with Can Can girls, the Statue of Liberty and the ubiquitous Les Halles cow!
Links:
D'Artagnan
Les Halles
Best Buddies New York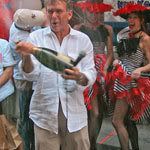 Sponsor:
www.godaddy.com
Use these codes for special discounts at checkout:
palate1
for 10% off any order
palate2
for $5 off any order of $30 or more
palate3
to get a .COM domain name for just $6.95 a year
Music: "Go Fish" by Big Money Grip, from the Podsafe Music Network.
music.podshow.com
The ReMARKable Palate Podcast
is a production of
The Culinary Podcast Network
.
www.culinarypodcastnetwork.com
food
,
food podcast
,
ReMARKable Palate
,
Culinary Podcast Network
,
Gilded Fork
,
Chef Mark
,
PodShow
,
Bastille Day
,
Les Halles
,
D'Artagnan
,
France
Labels: bastille day, france, podcast, ReMARKable Palate