ReMARKable Palate Podcast #99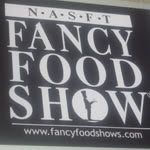 ReMARKable Palate #99: 2007 Summer Fancy Food Show
Highlights from one of my favorite events of the year: The NASFT Fancy Food Show. Over 2500 vendors from all over the world show off their best food products at New York's Javits Center. We'll have a number of audio and video podcasts from the floor of the Javits on upcoming CPN shows, and today's show consists of quick bites: Irish soda bread, Austrian energy drinks, Spanish olives, French country bread and Brooklyn coffee.
Links:
Celtic Passions
Brooklyn Coffee House
Poilane
Rhino's Energy Drink
Oloves
Sponsor:
www.godaddy.com
Use these codes for special discounts at checkout:
palate1
for 10% off any order
palate2
for $5 off any order of $30 or more
palate3
to get a .COM domain name for just $6.95 a year
Music: "Go Fish" by Big Money Grip, from the Podsafe Music Network.
music.podshow.com
The ReMARKable Palate Podcast
is a production of
The Culinary Podcast Network
.
www.culinarypodcastnetwork.com
food
,
food podcast
,
ReMARKable Palate
,
Culinary Podcast Network
,
Gilded Fork
,
Chef Mark
,
PodShow
,
fancy food show
,
NASFT
,
coffee
,
Poilane
Labels: fancy food show, podcast, ReMARKable Palate