ReMARKable Palate #103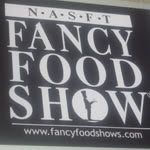 ReMARKable Palate #103: More Fancy Food!
More coverage from the NASFT Fancy Food Show. Today we hop around the globe, sampling latkes from Los Angeles, wine infused ice cream from upstate New York, and learn about molecular gastronomy from a top Spanish chef, and finally speak with an obsessed Frenchman with microgreens!
Links:
Chile: Linda's Gourmet Latkes
Mercer's Wine Ice Cream
Koppert Cress micro-vegetables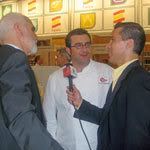 Sponsor:
www.godaddy.com
Use these codes for special discounts at checkout:
palate1
for 10% off any order
palate2
for $5 off any order of $30 or more
palate3
to get a .COM domain name for just $6.95 a year
Music: "Go Fish" by Big Money Grip, from the Podsafe Music Network.
music.podshow.com
The ReMARKable Palate Podcast
is a production of
The Culinary Podcast Network
.
www.culinarypodcastnetwork.com
food
,
food podcast
,
ReMARKable Palate
,
Culinary Podcast Network
,
Gilded Fork
,
Chef Mark
,
PodShow
,
Fancy Food Show
,
Linda's Gourmet Latkes
,
Koppert Cress
,
Mercer's Wine Ice Cream
,
Sergio Fernandez
Labels: fancy food show, podcast, ReMARKable Palate