ReMARKable Palate #105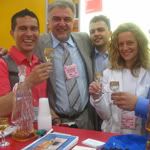 ReMARKable Palate #105: The Spirit of Serbia
I meet some great new friends from Serbia, who introduce me to the bountful fruits and vegetables of their land. I learn that Serbia didn't have to "go organic" like the US, since they have always used traditional natural farming methods. I also get a taste of a traditional Serbian Spirit, Slivewicz, a tasty double distilled liqueur made with plums and prunes.
Links:
Serbian Fruit
SIEPA
Serbian Recipes
Sponsor:
www.godaddy.com
Use these codes for special discounts at checkout:
palate1
for 10% off any order
palate2
for $5 off any order of $30 or more
palate3
to get a .COM domain name for just $6.95 a year
Music: "Go Fish" by Big Money Grip, from the Podsafe Music Network.
music.podshow.com
The ReMARKable Palate Podcast
is a production of
The Culinary Podcast Network
.
www.culinarypodcastnetwork.com
food
,
food podcast
,
ReMARKable Palate
,
Culinary Podcast Network
,
Gilded Fork
,
Chef Mark
,
PodShow
,
Serbian food
,
slivewicz
Labels: podcast, serbia. slivewicz