RP114: A Mexican Lunch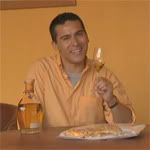 ReMARKable Palate #114: A Mexican Lunch
Jennifer and I have lunch on the terraza with Vinicio Estrada and Juan Pable Diz of
Partida Tequila
, in Amatitan, Mexico. We discuss pairing tequilas with food. Then I go into the kitchen with my new Hamilton Beach stand mixer and show you how to make a simple crepe batter.
Co-Sponsors:
Hamilton Beach
Partida Tequila
www.godaddy.com
Use these codes for special discounts at checkout:
palate1
for 10% off any order
palate2
for $5 off any order of $30 or more
palate3
to get a .COM domain name for just $6.95 a year
Music: "Go Fish" by Big Money Grip, from the Podsafe Music Network.
music.podshow.com
"El Testament d'Amelia", by Terry Muska, from Talking Taco Music.
www.talkingtaco.com
The ReMARKable Palate Podcast
is a production of
The Culinary Media Network
.
www.culinarymedianetwork.com
food
,
food podcast
,
ReMARKable Palate
,
Culinary Media Network
,
Gilded Fork
,
Chef Mark
,
tequila
,
Partida Tequila
,
Hamilton Beach
Labels: kitchencast, on the tequila trail, tequila