RP117: Miami in NYC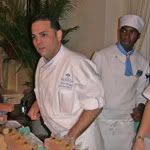 ReMARKable Palate #117: A taste of Miami in NYC
We visit with friends old and new and warm up in the autumn cold! Chef Chris Wagner from Johnson and Wales University, Mabel de Beunza from The Biltmore Hotel, and William Talbert, CEO of the Greater Miami Convention and Visitors Bureau, as well as chefs from Talulah, Loew's Miami Beach Hotel, and more.
Links:
Johnson and Wales University
Biltmore Hotel
Miami and the Beaches
Co-Sponsors:
Hamilton Beach
Partida Tequila
On The Tequila Trail Video Series
www.godaddy.com
Use these codes for special discounts at checkout:
palate1
for 10% off any order
palate2
for $5 off any order of $30 or more
palate3
to get a .COM domain name for just $6.95 a year
Music: "Go Fish" by Big Money Grip, from the Podsafe Music Network.
music.podshow.com
The ReMARKable Palate Podcast
is a production of
The Culinary Media Network
.
www.culinarymedianetwork.com
food
,
food podcast
,
ReMARKable Palate
,
Culinary Media Network
,
Gilded Fork
,
Chef Mark
,
Miami
,
Partida Tequila
,
Hamilton Beach
Labels: miami, podcast, ReMARKable Palate