RPV21: Ocean Spray Recipe Contest Winners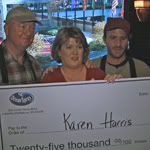 ReMARKable Palate Video #21: Ocean Spray Recipe Contest Winners
We attend a cocktail party to announce the winners of Ocean Spray's cranberry recipe contest winners. 4 finalists in each of 2 categories, professional and home cooks, cooked for the judges, and one winner from each division won $25,000, presented by a couple of recognizable cranberry farmers!
Co-Sponsors:
Hamilton Beach
Partida Tequila
On The Tequila Trail Video Series
www.godaddy.com
Use these codes for special discounts at checkout:
palate1
for 10% off any order
palate2
for $5 off any order of $30 or more
palate3
to get a .COM domain name for just $6.95 a year
Music: "Go Fish" by Big Money Grip, from the Podsafe Music Network.
music.podshow.com
The ReMARKable Palate Podcast
is a production of
The Culinary Media Network
.
www.culinarymedianetwork.com
food
,
food podcast
,
ReMARKable Palate
,
Culinary Media Network
,
Gilded Fork
,
Chef Mark
,
cranberry
,
Ocean Spray
,
personal chef
Labels: cranberry, ReMARKable Palate, video