ReMARKable Palate Podcast #89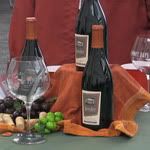 ReMARKable Palate #89: Pinot Days New York.
I recently visited the New York Edition of the
Pinot Days Festival
, with Pastry Princess Monica in tow to keep me from drinking too much (and she was also shooting video for us, which you'll see in an upcoming video podcast). We speak with Mark Ketcham of
Ketcham Estate
, Michael Brill of
Crushpad
, Michael Brughelli of
Kenneth Volk Vineyards
, and Mark McWilliams of
Arista Winery
.
Plus, some listener feedback on my Editorial from last week.
Links:
www.pinotdays.com
www.ketchamestate.com
www.crushpadwine.com
www.volkwines.com
www.aristawinery.com
Sponsor:
www.GoDaddy.com
Use these codes for special discounts at checkout:
palate1
for 10% off any order
palate2
for $5 off any order of $30 or more
palate3
to get a .COM domain name for just $6.95 a year
Music: "Go Fish" by Big Money Grip, from the Podsafe Music Network.
music.podshow.com
The ReMARKable Palate Podcast
is a production of
The Gilded Fork
.
www.gildedfork.com
www.culinarypodcastnetwork.com
food
,
food podcast
,
wine
,
Pinot Noir
,
Pinot Days
,
ReMARKable Palate
,
Culinary Podcast Network
,
Gilded Fork
Labels: pinot noir, podcast, wine