ReMARKable Palate Podcast #95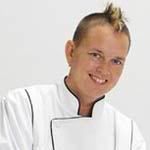 ReMARKable Palate #95: Top Chef Contestant Sandee Birdsong
On today's show, we hang out with Top Chef 3 contestant Sandee Birdsong, who has worked her way up from being a self-taught home cook to become Executive Chef of Tantra, the sexiest restaurant in Miami's South Beach. She shares the story of her culinary arc, and her dedication to using fresh seafood in her tantalizing food.
Links:
www.miamiandbeaches.com
www.ilovemiamispice.com
www.chefbirdsong.com
Sponsor:
www.GoDaddy.com
Use these codes for special discounts at checkout:
palate1
for 10% off any order
palate2
for $5 off any order of $30 or more
palate3
to get a .COM domain name for just $6.95 a year
Music: "Go Fish" by Big Money Grip, from the Podsafe Music Network.
music.podshow.com
The ReMARKable Palate Podcast
is a production of
The Culinary Podcast Network
.
www.culinarypodcastnetwork.com
www.culinarypodcastnetwork.com
food
,
food podcast
,
wine
,
Sandee Birdsong
,
Top Chef
,
ReMARKable Palate
,
Chef Mark
,
Culinary Podcast Network
,
Gilded Fork
Labels: chefs, podcast, ReMARKable Palate