Truffled "Eggs in the Basket"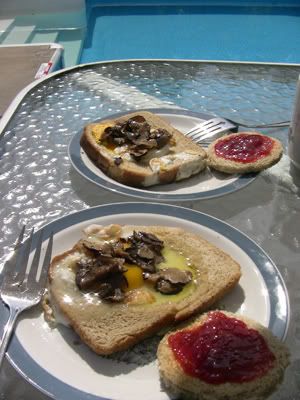 What a way to use leftovers! I had some remaining truffles from a client dinner, and I brought them up to Jennifer's. We decided to make "eggs in the basket", Italian style, simply served with shaved truffles preserved in oil.
We enjoyed the breakfast poolside, and of course used the "cut outs" from the toast to enjoy some strawberry preserves we picked up at
Rogowski Farm
. There's nothing like real home made preserves from a farm where the berries were actually grown! So as much as we advocate for eating local, this is the perfect balance...local eggs, toast and jam, with an accent from an earthy delight that you can only get from halfway around the world!
The only one disappointed with the meal was Stiva, who didn't get any! Ah well, he enjoyed the sun by the pool...
food
,
food podcast
,
cooking
,
truffles
,
breakfast
,
ReMARKable Palate
,
Culinary Podcast Network
,
Gilded Fork
Labels: truffles