ReMARKable Palate Video #15
ReMARKable Palate Video #15: Caramel Sin
We get a taste of some really SIN-fully sweet foods from David Hahn of
Caramel Sin
. It's devilishly sweet, and the absolute richest caramel on the market, but he also offers us some healthier sugar free Cranberry Fool!
Sponsor:
www.godaddy.com
Use these codes for special discounts at checkout:
palate1
for 10% off any order
palate2
for $5 off any order of $30 or more
palate3
to get a .COM domain name for just $6.95 a year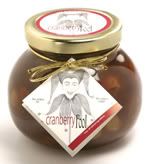 Music: "Go Fish" by Big Money Grip, from the Podsafe Music Network.
music.podshow.com
The ReMARKable Palate Podcast
is a production of
The Culinary Podcast Network
.
www.culinarypodcastnetwork.com
www.culinarypodcastnetwork.com
food
,
food podcast
,
Caramel Sin
,
Cranberry Fool
,
Chef Mark
,
video podcast
,
ReMARKable Palate
,
Culinary Podcast Network
,
Gilded Fork