RPV23: Ariane Daguin of D'Artagnan Foods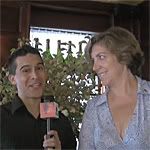 ReMARKable Palate Video #23: Ariane Daguin of D'Artagnan Foods
I catch up with Ariane Daguin from
D'Artagnan Foods
, on the occasion of a luncheon she co-hosted at Restaurant Orsay in NYC to celebrate the arrival of the wines of
Domaine du Tariquet
from her native Gascony to America. We chat about the wine and food pairings, and the seasonal wild fowl D'Artagnan is bringing to America from Scotland.
Co-Sponsors:
Hamilton Beach
www.godaddy.com
Use these codes for special discounts at checkout:
palate1
for 10% off any order
palate2
for $5 off any order of $30 or more
palate3
to get a .COM domain name for just $6.95 a year
Music: "Go Fish" by Big Money Grip, from the Podsafe Music Network.
music.podshow.com
The ReMARKable Palate Podcast
is a production of
The Culinary Media Network
.
www.culinarymedianetwork.com
food
,
food podcast
,
ReMARKable Palate
,
Culinary Media Network
,
Gilded Fork
,
Chef Mark
,
Ariane Daguin
,
Dartagnan
,
Tariquet
,
Hamilton Beach
Labels: food and wine pairing, ReMARKable Palate, video, wine