RP121: A Taste of Friuli Venezia Giulia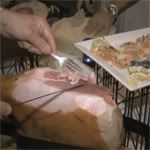 ReMARKable Palate #121: A Taste of Friuli Venezia Giulia
This week, we learn about the food and wine products of the Friuli Venezia Giulia region of Northeastern Italy, which borders with Slovenia. From Montasio Cheese and the amazing frico made from it, to Prosciutto San Daniele, and the Friulano grape, we speak with winemakers and with our friend Lou Di Palo from Di Palo's Fine Foods in Little Italy, and learn about this unique little region.
Get your holiday gifts at the
Gilded Fork Boutique
. Use code RPHOLIDAY to get a 10% discount through December 31st.
Music: "Go Fish" by Big Money Grip, from the Podsafe Music Network.
music.podshow.com
The ReMARKable Palate Podcast
is a production of
The Culinary Media Network
.
www.culinarymedianetwork.com
food
,
food podcast
,
ReMARKable Palate
,
Culinary Media Network
,
Gilded Fork
,
Chef Mark
,
Friuli Venezia Giulia
,
Montasio
,
Prosciutto San Daniele
,
Friulano
Labels: cheese, italy, podcast, ReMARKable Palate, wine