RPV26: Friuli Venezia Giulia Video
ReMARKable Palate Video #26: A Taste of Friuli Venezia Giulia
We speak with our friend Lou Di Palo from Di Palo's Fine Foods in Little Italy about Montasio Cheese and Prosciutto San Daniele from Friuli Venezia Giulia. Then we speak with winemaker Christian Beltrame about the expression of wine in the region.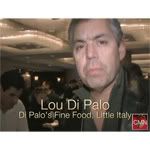 Co-Sponsors:
Hamilton Beach
www.godaddy.com
Use these codes for special discounts at checkout:
palate1
for 10% off any order
palate2
for $5 off any order of $30 or more
palate3
to get a .COM domain name for just $6.95 a year
Music: "Go Fish" by Big Money Grip, from the Podsafe Music Network.
music.podshow.com
The ReMARKable Palate Podcast
is a production of
The Culinary Media Network
.
www.culinarymedianetwork.com
food
,
food podcast
,
ReMARKable Palate
,
Culinary Media Network
,
Gilded Fork
,
Chef Mark
,
Friuli
,
wine
,
Montasio
,
Italy
Labels: cheese, italy, prosciutto, ReMARKable Palate, video, wine