ReMARKable Palate Podcast #75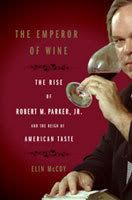 ReMARKable Palate #75: The Emperor of Wine, Part 1
Today our guest is celebrated wine writer and critic
Elin McCoy
. She is the wine and spirits columnist for Bloomberg News and Shattered magazine, and for years she was a contributor and editor of Food and Wine Magazine. Today she joins us to speak about her award winning book, "The Emperor of Wine, the Rise of Robert M. Parker Jr. and the Reign of American Taste", which was just released in a trade paperback with additional material not found in the original hardcover edition. This book won the Gourmand World Cookbook Award, and was a finalist for both the James Beard and the IACP awards. Elin and I sat down over a cup of tea on a chilly winter afternoon.
Voice Mail
: 646-797-3196
Skype:
remarkablepalate
remarkablepalate@gmail.com
remarkablepalate.podshow.com
Our new Sponsor:
www.GoDaddy.com
Use these codes for special discounts at checkout:
palate1
for 10% off any order
palate2
for $5 off any order of $30 or more
palate3
to get a .COM domain name for just $6.95 a year
Music: "Go Fish" by Big Money Grip, from the Podsafe Music Network.
music.podshow.com
The ReMARKable Palate Podcast
is a production of The Gilded Fork.
www.gildedfork.com
www.culinarypodcastnetwork.com
food
,
food podcast
,
wine
,
Robert Parker
,
The Emperor of Wine
,
Elin McCoy
,
ReMARKable Palate
,
Culinary Podcast Network
,
Gilded Fork
Labels: food and wine pairing, podcast, wine