ReMARKable Palate Podcast #83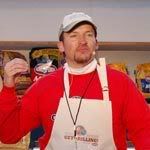 ReMARKable Palate #83: Spring Forward, Get Grilling.
Today, I take you to Madison Square Park in New York City, and we join our friend Chef Aarón Sanchez (whom you heard recently on
Culinary Roundtable #8
), as well as champion pitmaster Chris Lilly and expert griller and cookbook author Rick Rodgers, as they get New Yorkers ready for the summer grilling season with the Kingsford Spring Forward, Get Grilling event.
Recipe:
Aromatic Spiced Coffee Rub for Meat
Music: "Go Fish" by Big Money Grip, from the Podsafe Music Network.
music.podshow.com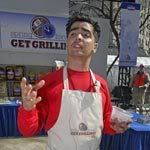 Sponsors:
Folgers Gourmet Selections
:
Visit
www.folgers.com/podshow
for a free sample of their new flavored gourmet coffees.
www.GoDaddy.com
Use these codes for special discounts at checkout:
palate1
for 10% off any order
palate2
for $5 off any order of $30 or more
palate3
to get a .COM domain name for just $6.95 a year
The ReMARKable Palate Podcast
is a production of
The Gilded Fork
.
www.gildedfork.com
www.culinarypodcastnetwork.com
food
,
food podcast
,
grilling
,
barbecue
,
Aaron Sanchez
,
Chris Lilly
,
Rick Rodgers
,
Kingsford
,
ReMARKable Palate
,
Culinary Podcast Network
,
Gilded Fork
Labels: aaron sanchez, barbecue, grilling, podcast