Culinary Roundtable #6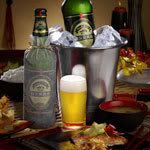 Culinary Roundtable #6
We're back! The foodcasters will be back in full swing with new episodes in the coming weeks, but today it's just me,
Chef Mark
, with a literal roundtable. I was invited to a special beer and food pairing luncheon to celebrate the Chinese New Year, the year of the Golden Boar, with Harbin Lager at
Tao restaurant
in New York City. A group of food journalists enjoyed each other's company, as well as the knowledge and expertise of master brewer George Reisch, who gave us a great lesson in brewing, tasting beers, and pairing them with foods. You get to listen in on the meal today!
Sponsor:
Barilla Pasta
- Download your FREE Pasta Lovers' Cookbook at
www.pastaloverscookbook.com
, and Barilla will donate $1 on your behalf to America's Second Harvest, the Nation's Food Bank Network.
Music: "Byron's Got the Time" by Family Groove Company. Find it on the Podsafe Music Network at
music.podshow.com

www.culinarypodcastnetwork.com
food
,
food podcast
,
beer
,
beer and food pairing
,
Harbin Lager
,
ReMARKable Palate
,
Culinary Roundtable
,
Culinary Podcast Network
,
Gilded Fork
Labels: beer, beer and food pairing, culinary roundtable, podcast