RP109: Dinner at Chez Panisse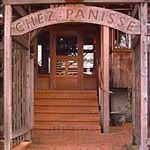 ReMARKable Palate #109: Dinner at Chez Panisse
Jennifer and I head to Berkley, California, and are taken by our friend Randy Windham to Alice Water's legendary
Chez Panisse
. This temple of local, seasonal cuisine has been making great food from simple ingredients for more than 30 years. We taste and swoon our way through the menu, and we hear a bit about Randy, who is a chef and has worked at Chez Panisse.
Chez Panisse
Sponsor:
www.godaddy.com
Use these codes for special discounts at checkout:
palate1
for 10% off any order
palate2
for $5 off any order of $30 or more
palate3
to get a .COM domain name for just $6.95 a year
Music: "Go Fish" by Big Money Grip, from the Podsafe Music Network.
music.podshow.com
The ReMARKable Palate Podcast
is a production of
The Culinary Podcast Network
.
www.culinarypodcastnetwork.com
food
,
food podcast
,
ReMARKable Palate
,
Culinary Podcast Network
,
Gilded Fork
,
Chef Mark
,
PodShow
,
Chez Panisse
,
California Cuisine
Labels: chez panisse, podcast, ReMARKable Palate, restaurant