RP123: CityMeals on Wheels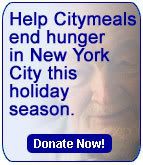 ReMARKable Palate #123: CityMeals on Wheels
Jennifer and I speak once again with Gael Greene, founder of CityMeals on Wheels, on the occasion of the organization serving its 34 millionth meal to homebound elderly New Yorkers. Consider making a donation to
citymeals.org
this holiday season to help in the effort.
And I go into the kitchen to show you how to make an easy weeknight meal of Chicken and Grapes (yes, grapes!)
Get your holiday gifts at the
Gilded Fork Boutique
. Use code RPHOLIDAY to get a 10% discount through December 31st.
Music: "Go Fish" by Big Money Grip, from the Podsafe Music Network.
music.podshow.com
ReMARKable Palate
is a production of
The Culinary Media Network
.
www.culinarymedianetwork.com
food
,
food podcast
,
ReMARKable Palate
,
Culinary Media Network
,
Gilded Fork
,
Chef Mark
,
CityMeals on Wheels
,
Gael Greene
,
recipe
Labels: citymeals on wheels, kitchencast, podcast, ReMARKable Palate